Lucia Lodge reopens!

As of July 18th 2017 access to Big Sur north to Pfeiffer Canyon Bridge near the Big Sur Post Office and all the way south to the town of Gorda is now accessible, but ONLY via Nacimiento Road.
The huge slide that occurred just north of Ragged Point (25 miles north of Cambria on Hwy 1) will have the southern entrance to Big Sur blocked for many years, and the replacement Pfeiffer Canyon Bridge at the northern entrance to Big Sur will not be completed for a few more months.
However Hwy 1 and Big Sur are accessible 24/7 from the East via Nacimiento Road (see directions and map below). Nacimiento Road goes over the beautiful Santa Lucia Mountain range and terminates at Hwy1 near Kirk Creek campground, 4 miles south of Lucia.
All Big Sur businesses now open with the exception of Ventana Inn and Deetjen's Big Sur Inn. The Henry Miller Library is open limited hours THU-SUN.
Note: FIRE DANGER! Big Sur experienced the most expensive fire in US history last year (2016). All types of fires are 100% banned except in fire pits in designated campgrounds. No smoking outside of your car when traveling on the roads. Please put your butts out in the ashtray. Please.
---
Directions and Driving Tips to Lucia Lodge
From Los Angeles and areas South of King City
1. Make sure to refuel before leaving Paso Robles. Gas will be expensive and hard to locate beyond there.
2. Take Highway 101 North 23.5 miles from Paso Robles (25 minutes), then exit at #252 "Fort Hunter Liggett / Jolon Road".
3. Continue on north towards Lockwood on Jolon Road.Your map or GPS may also refer to this a County Road G18 or just G18. You will travel 23 miles to the Fort Hunter Liggett entrance.
4. Make a left turn into Fort Hunter Liggett (Mission Road). [Continues below...]
From San Francisco and areas North of King City
1. Make sure to refuel along Hwy 101 somewhere between Salinas and exit 283. If you haven't done so, King City is 1 mile past your exit or there is a gas station just after you exit Hwy 101 on Jolon Road. That is the last gas station and gas will be hard to locate and expensive beyond there.
2. Travel south on Highway 101 to just north of King City and exit 283 San Antonio Lake / Jolon Road. That will be 47 miles (about 1 hour) past Salinas. At the stop sign at bottom of the off ramp, turn right on to Jolon Road.
3. Continue south on Jolon Road. Make sure to get fuel at the Chevron station if you haven't already done so. Your map or GPS may also refer to this a County Road G18 or just G18.You will travel 25 miles south to the Fort Hunter Liggett entrance.
4. Make a right turn into Fort Hunter Liggett (Mission Road).
EVERYONE
Once you turn onto the Mission Rd you will pass through an unmanned check point to enter the military base. Fort Hunter Liggett is an active military training base and you will be traveling through part of that base. Follow the speed limit carefully and watch for soldiers and equipment that may be on or near the road. We are guests on this base and it is important to be respectful of that privilege.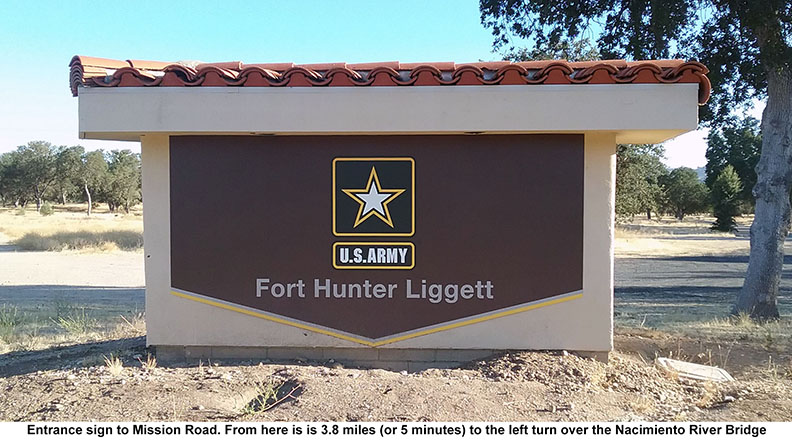 5. Continue west on Mission road at or below the posted speed limits. Speed limits change several time on the base and you should watch for signs. In about 2 miles Mission Road will turn sharply left at a barricaded check point and curve around towards the river. In about another mile there will be a three-way intersection with a green bridge on your left. Turn left to cross the river using the bridge. Do Not use the concrete causeway to cross the river – this is for military traffic only. If you reach the Mission you have gone too far. Turn around.
6. At this point you are now traveling on Nacimiento-Ferguson Road and you will follow this road all of the way to the Big Sur coast. You will still be on the Fort Hunter Liggett for about 8 miles until you pass the west check point. There are two intersections on this road that can be confusing, but just stay on Nacimiento-Ferguson Road and follow signs.
7. From this point on you will be driving on a sometimes narrow, undivided and curvy road over the mountains to reach Highway 1 and the Big Sur coast. This is also an area where the risk for wild fires is high, so please take every precaution with any source of ignition (e.g. cigarettes). Take your time and enjoy scenery that few will ever get to see. The road has no center line, so be extra cautious when making blind turns. Generally larger vehicles and vehicles traveling up-hill should be given the right away. Extra courteous driving goes a long way on this road.
8. It will be 14 miles from the west Hunter Liggett check point to Highway 1. The recommended speed limit is between 20 - 25 MPH. Again, take your time and drive safely! When you reach the stop sign at Highway 1, turn right to go north towards Lucia Lodge.Lucia will be 4 miles north.
Recap:

Gas up before leaving Hwy 101
Coming from the south take exit 252, San Antonio Lake/Jolon Road and drive 25 miles
Coming from the north take exit 283, Fort Hunter Liggett/Jolon Road and drive 23 miles
Turn onto Mission Road which will take you through Fort Hunter Liggett (radar enforced!).
Follow Mission Road for 3.8 miles (5 minutes) to Nacimiento-Ferguson Road at the green bridge. The signage is poor, but turn left to cross the bridge.
Continue through Fort Hunter Liggett on Nacimiento-Ferguson Road
When you pass the west check point it is then 14 miles to Hwy 1 on an undivided road
Travel carefully and be extra careful on blind turns
Be extremely careful with anything that could cause a fire (Butts in ashtray please!)
Turn right at Hwy 1 and proceed past Kirk Creek Campground and 4 miles north to Lucia
---
MAPS
Things you should be aware of: When in doubt on Nacimiento Rd, stay to the left on PAVED road. There are no service stations or cell phone service along this route. Nacimiento Road is paved all the way, but narrow and winding; please drive slowly around blind turns. This road should be driven using extreme caution, especially under dark or foggy conditions.
On your trip to the coast you will be passing through some of the hidden gems of Big Sur … the Oak Woodlands of Hunter-Liggett … the Riparian flora scattered along the Nacimiento River that borders the road … and the stunning views as you descend down to coast Highway 1. Watch for wildlife. Last week an employee spotted an eagle with prey crossing just a few feet above the road. Enjoy!
Overview Map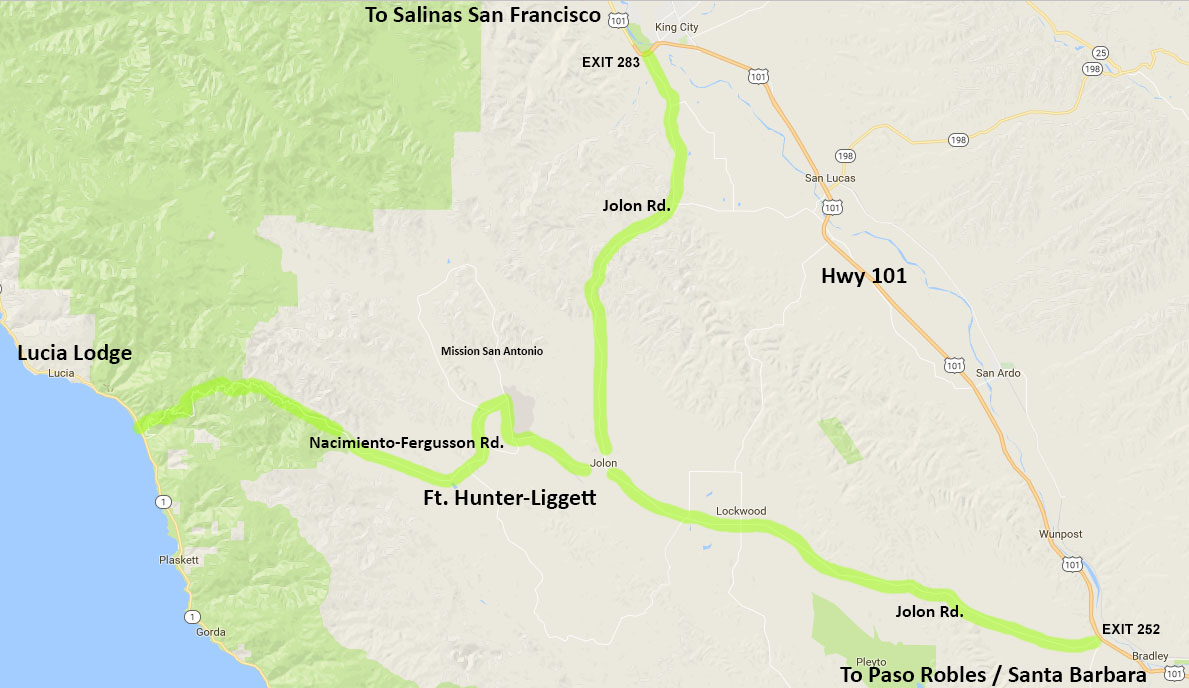 Detailed Map